With some of the world's best tourist attractions, Dubai is one of the most traveled destinations. From architectural creations to shopping festivals, Dubai draws thousands of tourists from all over the world. The city offers the best locations for fun and excitement, but getting around may get difficult for you without a knowledgeable and reliable guide. It is best to rent a car in Dubai for tourists, especially when you travel solo or with friends and family.
Compared to the group tours and public transportation system, you will prefer car rentals as the most effective way of travel. Let us understand the various reasons why you should choose to rent a car in Dubai.
Convenient
With tourist attractions in Dubai spread out far and wide, you may find using public transportation very exhausting, time-consuming, and unpredictable. As a tourist, it can get very confusing for you to get to different places and sights in Dubai by yourself. You cannot reply on public transportation to offer an end-to-end ride, which means you may need to walk to your destination. Certain areas have minimal transportation, thus confining you with few or no options in the routes you want to take. All the travel issues, in addition to the hot weather in the city, make renting a car in Dubai the most convenient option for travel to enjoy the locations of your choice. Book our Dubai honeymoon packages and choose to rent a car in Dubai to travel anywhere 24/7.
Economical
The most beneficial thing about using car pick-up rental in Dubai is that you will pay significantly less than the public transportation system. The difference in cost is because you pay fixed prices with pick-up car rental as per the vehicle, but you will need to pay fluctuating taxi fares depending on the season you travel. Also, you benefit from the increasing competition between car rental companies. Take advantage of the discounts and offers from the various companies after thorough research. Our agents at GT Holidays can do the research for you and assist you in choosing a rental car in Dubai at the most reasonable cost through our Dubai travel packages. We can also ensure that the car rental rate stays reasonable without compromising on the type of vehicle you wish to hire.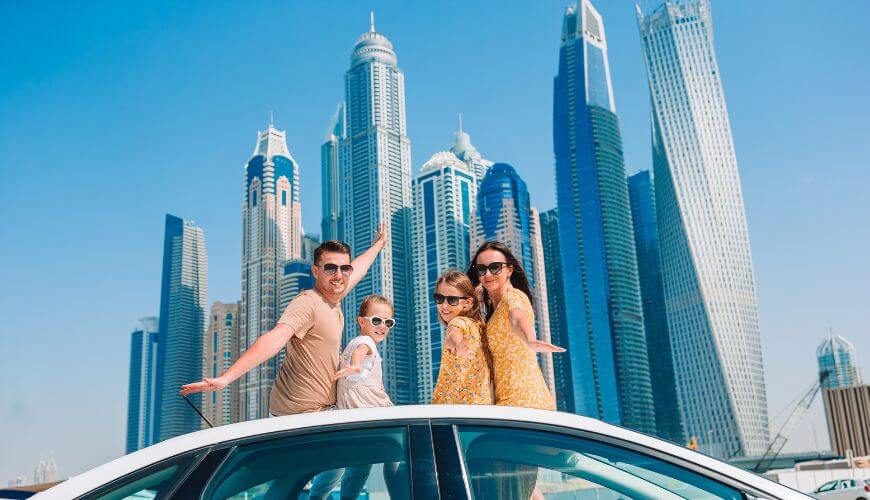 Reliable
When you are in a foreign location, you do not want to rely on unknown sources or strangers to decide your schedule for the day. The best way to move around is to rent a car in Dubai for tourists, offering you the comfort of moving around with a reliable person who understands the routes, the timings of famous tourist spots, and your expectations and requirements. You can hire the car for a scheduled time slot or around the clock and need not worry about making arrangements for transportation to take you anywhere in the city.
Comfort
Dubai is a vast city with numerous sightseeing spots; traveling to each place by public transport can be a hassle. We can help you with pick-up rental in Dubai, which will offer you a comfortable way to visit all the attractions Dubai offers at your own pace. Depending on the number of people traveling, you can pick a car size that ensures comfortable travel. You will find it quite liberating to have a vehicle that allows you to travel as you please. You get the independence to see and do things as per your choice in this multi-faceted city.
Variety
With GT Holidays Dubai travel packages, you will get offered a good variety of automobiles if you choose to rent a car in Dubai. You can select from several cars that are available for rent, from the opulent to the more affordable, as per your budget and travel requirements. We can also provide additional discounted prices from the rental agencies to ensure you get the best deal and enjoy the comfort of being driven all around Dubai in your choice of vehicle at budget prices.
With the increasing number of tourists, Dubai has seen rapid growth in its car rental industry. GT Holidays can ensure you use an affordable mode of transportation while making the most during your travel with Dubai tour packages.
Make use of the above car rental benefits when visiting Dubai. Call GT Holidays if you wish to rent a car in Dubai for tourists. Follow our Instagram profile to know about the latest offers and discounts.