The honeymoon is when couples want to spend their time together amid romantic backdrops, where they can relax and enjoy each other's company. There's no better location than the Maldives for you as a couple to experience the rich tropical beauty and world-class facilities as part of your luxurious Maldives tour package from Chennai. Here are 4 top reasons why the Maldives is famous as a honeymoon destination:
1. Romantic & Picturesque Settings
Imagine yourself with your spouse relaxing on sandy-white beaches surrounded by turquoise waters. An island that makes everything rose-tinted and romantic, checking every box that a beach-loving couple expects from a honeymoon destination. Due to the island's unique settings around the warm ocean, you, as a couple, will find a unique piece of paradise far away from the hustle-bustle of your city. The Maldives as a honeymoon destination is the most required escape post-wedding to destress and enjoy each other's company. As honeymooners, you are sure to find peace and tranquility in most of the island resorts. The vibrant coral reef and spectacular turquoise lagoon will make for a perfect backdrop for your honeymoon pictures during the day. The evening sky drapes itself in deep hues of pink, setting the time for you to head for romantic sunset champagne cruises or romantic candle-lit dinners at the beach. GT Holidays offer many Maldives tourism packages for a couple that can ensure a perfect romantic setting on the island.
2. Romantic Facilities at The Resorts
Couples worldwide also visit the Maldives to experience its one-of-a-kind facilities at the various resorts. From private islands and lagoon resorts to water villas and secluded beaches, every resort will offer some option to assure you that privacy is paramount. When booking with GT Holidays, you can express the requirements, and our agents will set up resorts that offer the same. With our Maldives honeymoon packages, you will experience romantic beach dinners, couples' massages, and romantic evening cruises to ensure you make the most memorable memories as newlyweds. Many married couples choose to renew their vows again on the beach with a unique wedding vow ceremony set up with the help of the resort staff. From underwater night clubs and dancing to Maldivian music to enjoying a picnic for two at a remote beach and heading for water sports, most resorts will cater to all your couple's demands to the extent that you get spoilt for choice.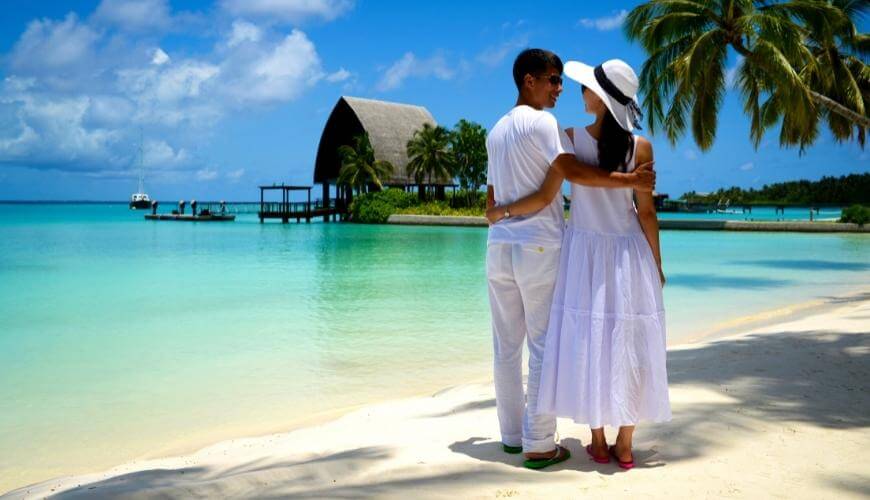 3. Private & Luxurious Stay
The Maldives is known to cater to honeymoon couples in an extra special way. As a honeymooner, you get provided with privacy, discreet assistance, and services when required. With the one island, one resort concept in the Maldives, you get plenty of space and privacy as couples. The professional and qualified staff will ensure that you feel like royalty by going out of their way and making your couples retreat memorable. From a welcome with chocolates and roses to a surprise dinner on the beach, only the enchanted islands of Maldives can add that magical touch to your romantic settings. The resorts are also known to pamper you as a couple with their diverse and exquisite culinary skills. You can enjoy exotic island-inspired creations or international gourmet cuisine with your spouse in the resort.
GT Holidays provides a Maldives package from India for a couple at a price that is not only cost-effective but also makes it a hot honeymoon favourite. As a couple, you can choose from multiple luxurious hotels and resorts to enjoy the tropical islands, the natural attractions, luxury accommodations, private romantic moments, outstanding cuisine with local food, and thrilling underwater and water sports experiences.
4. Relaxation in Scenic Natural Settings
Resorts worldwide may offer luxurious spa treatments, but the wellness and relaxation in the spectacular and unique natural settings of the Maldives is an experience in itself. Imagine you as a couple in a couple's treatment rooms overlooking the fantastic views of the Indian ocean. From luxury Spa treatments with scented baths to yoga on a sandbank or in an overwater pavilion, you will never experience it anywhere else but in the Maldives. As you and your partner explore the sandy beaches and the crystal waters, you can enjoy a blissful, one-of-a-kind sand massage. Indulge in a couple's massage with refreshing coconut oil amid the tropical breeze and views of the blue waters for a memorable experience.
Plan a visit to the exquisite islands with Maldives trip packages from GT Holidays and give your honeymoon the backdrop it truly deserves. Visit to find out why the Maldives is famous for honeymoons, and you will fall in love with the destination. Follow our Instagram profile to know about the latest offers and discounts.