For a one-of-a-kind Maldives experience, one must ensure a luxury holiday in the famous water villas overlooking the white sandy beaches and turquoise waters. Standing on firm stilts, the water villas are an idyllic setting, symbolic of elegance and luxury, providing you with a space filled with privacy and tranquility. GT Holidays offers various Maldives water villa packages to suit your needs. If you want to understand the true magic of the gorgeous islands, then find out what is water villa in the Maldives is and why it is so famous and sought after.
What is a Water Villa?
Water villas are accommodations created for guests at various resorts constructed right on top of the water with the support of stilts. As a unique stay experience, water villas are found only in a few places worldwide. The water villas in the Maldives are elegantly designed and offer the best amenities and views, putting them at the top of the list. Just imagine yourself relaxing in a water villa that rests on beautiful reefs and a picturesque turquoise ocean.
What Amenities are Available in The Water Villas?
Are you planning a trip to the Maldives? Then it would be best if you tried staying in a water villa for at least a few nights through your Maldives travel package. Most resorts now offer water villas with all the modern-day amenities similar to a luxury villa or hotel rooms but up its quotient with the natural scenic surroundings. From private infinity pools and sun decks offering stunning ocean views to outdoor beds and over-water hammocks to admire the magical beauty of underwater wonders, you will experience the epitome of luxury accommodation fit for royalty.
Are Water Villas Budget-Friendly?
Regarding the Maldives water villa package price, you will come across various resorts offering different types of villas for every budget. If you are wondering what is the cost of a water villa in the Maldives, then it's good to know that there's a range of water villas from 3-star to 5-star-plus in 80 different private-island resorts. Even the least expensive water villa will offer views and amenities that will be memorable for a lifetime. Let us look at the 3 types of water villas available in the Maldives:
Affordable Budget
These pocket-friendly villas offer scenic views and great amenities and are usually based on all-inclusive plans, thus offering better value for money. Many resorts now provide split stays where you can split your visit with a few nights in a traditional villa and the rest in a water villa and lower the overall costs to experience water villas on your vacation.
Mid-Range Luxury Budget
You will find many resorts offering water villas in this range with an all-inclusive meal and activities planned in the Maldives honeymoon packages. Popular with the honeymoon crowd, these villas offer privacy and fantastic accommodation.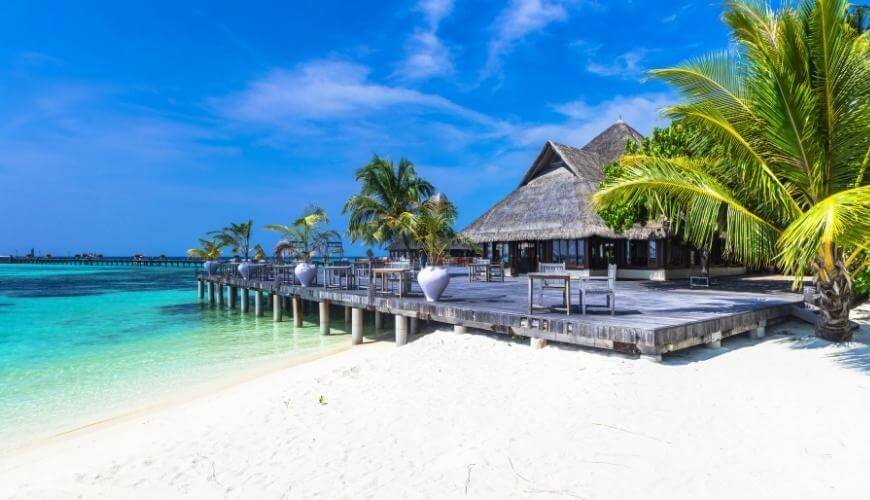 High-Range Super Luxury Budget
For a picture-postcard setting in a luxurious villa over a crystal-clear lagoon, you need to spend a fair bit. These 5-star properties are designed especially for guests who wish to live like royalty, offering them hosts of water activities in the package. Honeymooners, friends, and families can enjoy their stay in these luxurious villas. Every day is exhilarating, from snorkelling trips and excursions to underwater dining and sunset cruises. The private decks on the water villas offer a panorama of the Indian Ocean in all shades of blue.
Why Water Villas in the Maldives?
If you've ever dreamed of a vacation, stay in a beautiful villa on stilts over a crystal-clear lagoon, then head to the Maldives. The Island of Maldives offers the most unusual and luxurious accommodations anywhere in the world in the form of water villas. The villas provide not only a space filled with privacy and tranquility but also a place where time slows down to allow souls to connect. Most water villas on resort islands of the Maldives are placed adjacent to each other, while others are semi-detached, but they are all equipped with screening to offer privacy to every guest. You can also choose Maldives water villa packages for couples, through GT Holidays, from the special categories of elegant villas that stand at a distance from other villas in the lagoon, guaranteeing complete seclusion.
The Maldives is known to be a beautiful boon by nature, offering picturesque views, exciting water activities, and spectacular food. The water villas enhance the experience by providing exceptional hospitality, a peaceful state of mind, and, more importantly, quality time with your loved ones.
If you cannot wait longer and want to see what is a water villa in the Maldives like, then you should get in touch with GT holidays and book your Maldives water villa package from Chennai for an exclusive experience of the beautiful Island. Follow our Instagram profile to know about the latest offers and discounts.