A honeymoon location needs to add that extra dash of romance, fun and excitement to your lives as a newly wedded couple. Bali stands amongst the top favourite honeymoon destinations with the best weather, scenic landscapes, adventurous activities, and positive spiritual energy. You don't have to look any further than GT Holidays to find the best hotels in Bali for honeymoon.
Let us take you through the island's best locations so you can choose from the best honeymoon hotels in Bali.
Uluwatu
The name Uluwatu explains why the location is apt for couples. 'Ulu' means Land's end, and 'Watu' means rock, thus offering you spectacular views of the southwestern tip of Bali. Uluwatu is very popular with the younger crowd since it draws many surfers, tourists and couples worldwide. Imagine waking up with your sweetheart amidst breath-taking views of crashing beaches, rugged cliffs and dazzling sunsets over the Indian ocean. The romantic landscape prompts you to click Instagram-worthy pictures with your better half to hold them as precious memories of a lifetime. Uluwatu is also known to feature some of Bali's most luxurious resorts, hotels and fancy restaurants. Our agents at GT Holidays can arrange your stay at the Alila Villas Uluwatu resort in Bali, a luxury accommodation that offers privacy, tranquillity and world-class amenities. It is one of the best hotels in Bali for a honeymoon, with a private pool and ocean views. The villas are surrounded by natural landscapes that mimic the interior design with materials like bamboo ceilings and lava rock roofs.
Another great resort in Uluwatu, where you can choose to stay, is the Six Senses. Book your stay in the cliff pool villa and get your own secluded space to spend quality time with your spouse. The villa features Balinese architecture and offers calming ocean views that help you unwind.
Seminyak
If you prefer a more cosmopolitan life in Bali, Seminyak is the right location for you as a couple. Seminyak offers the most opulent beach resorts fringed by the blue Indian Ocean. Couples enjoy their nightlife in Seminyak as it is the hub of the best nightclubs, bars and cafes. You can also head to the lively beach shacks across the shoreline and the beaches. After a long day, you can share some cosy times with your partner at the W Bali in Seminyak to relax and get comfortable during your honeymoon in Bali. A lavish boutique hotel nestled on a pristine beach in Seminyak, W Bali, offers you the best 5-star accommodation as part of GT Holiday's Bali honeymoon packages. You can expect a luxurious experience that's enhanced by the presence of world-class wining and dining options and customised leisure facilities. As a couple, you can participate in water and adventure sports or enjoy some peaceful time with your partner sunbathing on the sandy beaches of Seminyak.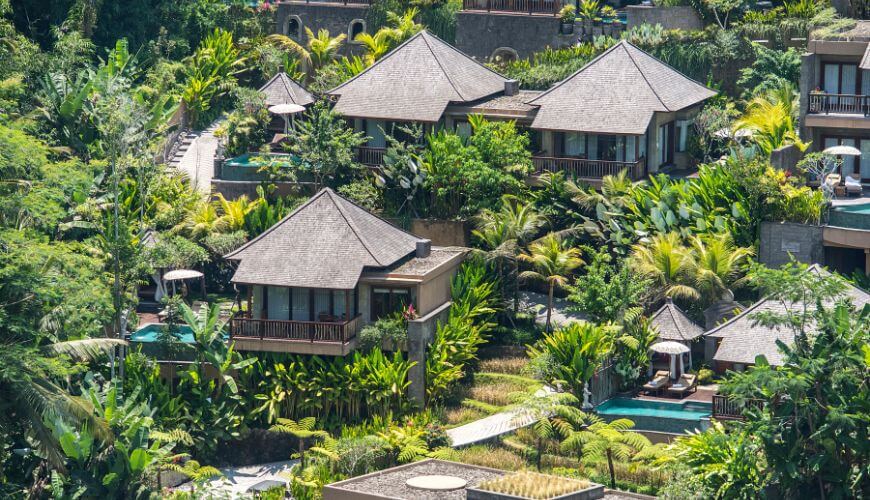 Kuta
Stroll through the winding lanes with your partner, or lounge and bask underneath the sun on the beach. From artistic cafes and boutique guesthouses to water sports that satiate your adventure cravings, the Balinese town of Kuta has it all for honeymooners. What was once an idle fishing village has now turned into Bali's beach resort paradise, which offers a variety of diners and pubs for couples to enjoy the city's pulsating nightlife. Apart from the tourist hubs, Kuta offers you its lush coastal hills with banana and tobacco plantations and the world-class, unending stretches of stunning beaches here. No wonder many hotels and resorts have created beach heaven for you to enjoy the perfect Bali vacation. GT Holidays can arrange the best Bali tour packages for couples from the luxurious Amnaya resort to the pocket-friendly Bintang Bali resort.
Ubud
Ubud's centrally located makes for a great place for honeymooners to explore the town and its surrounding areas. The village's rich culture gets displayed through its beautiful traditional arts, temples, gardens and statues. Ubud's landscape on higher ground has allowed plenty of resorts and hotels to open up. You can enjoy the staggering views with its panoramic views of the sea as you enjoy your couple time. Check the GT Holiday website and book one of our Bali travel packages for a stay at the Udaya resorts and spa, set among lush greenery in Ubud, where a wholesome experience awaits you as a couple. To bond with your life partner, you can enrol for various activities in Ubud, like cooking classes, jewellery-making workshops, art markets, etc.
Sayan
A resort in the quiet village of Sayan, located by the Ayung river and surrounded by lush greenery, makes for a perfect honeymoon destination. Just 5km from Ubud, Sayan is known for its exotic resorts and hotels and the rich culture and diversity of the village, allowing you to experience a honeymoon in Bali that's just a fairy tale. We can book your accommodation at Four Seasons Resort Bali at Sayan, one of the best hotels in Bali for a honeymoon with a private pool, where the idyllic settings are suitable for romance. You will be living amidst tropical valleys along the Ayung river and can enjoy world-class amenities like a gym, outdoor pool and 4 dining options. Indulge in spa treatments and get pampered as a couple. Whenever you feel like heading out, you can drive to the Ubud Palace and Art Market in 10 mins.
Celebrate your togetherness as newlyweds in Bali and live in the best honeymoon hotels in Bali amidst nature and positive Balinese energy. Call us or visit our website to book one of the many Bali honeymoon packages in advance.