While travelling in Bali, you will come across many places that display Balinese handicrafts and local products. You can buy a range of high-end products and wonderful trinkets to take back home and remember the fantastic time in Bali. But with so many street stores and markets, you may get confused about which place in Bali is famous for shopping.
Here are 7 things you can buy and the places you must visit to focus on precisely what is famous in Bali for shopping:
1. Balinese Handmade Products
The most popular products visitors take home from Bali are mass-produced art and handicrafts. However, if you wish to make some time and buy some authentic and one-of-a-kind Balinese art, you must visit the local artists in their villages and buy the real deal. You will observe the artists at work adding their unique Balinese aesthetic into their paintings, jewellery, carvings and sculptures. With our Bali shopping guide, you can buy original items representing the Balinese spiritual inclinations towards Hindu deities and traditions.
Visit the Tegallalang handicrafts village for its vast selection of traditional Balinese arts and crafts.
Make a trip to Tenganan village and observe its fine makers of baskets, weavers of the traditional double ikat cloth and creators of calendars out of palm lontar leaves.
For coins made from five different elements and known as 'Panca Datu,' the village of Kamasan is the place to go where the coins are created to be used for many of the Balinese Hindu rituals. You can also buy the Kamasan-style intricate paintings that are part of Bali's historical culture.
Head to Celuk village to observe local silversmiths create intricate silver jewellery pieces. You can buy a range of products, from silver jewellery like rings, bracelets, necklaces, earrings, and broaches to silver statues and dinner sets.
2. Night Markets
During your sightseeing trips with our Bali travel packages, you will notice that many Night Markets in Bali are famous for shopping handicrafts, stone and wooden carvings, paintings and fabrics. The following markets are a great pick to satisfy the shopping urge.
As one of Bali's most established night markets, Sanur Night Market is an excellent place to bargain for items ranging from art and craft to fashion boutiques. If possible, go on a Sunday to find different merchants selling their local wares. You can also buy some elegant leather wallets and wooden home décor items.
Kuta is a famous place to hang out, but once the sun goes down, you will see the Kuta night market come to life. Experience the hustle and bustle of bargaining at the market with its very affordable line of local products and souvenirs.
Visit the Kreneng night market located at the heart of Denpasar. Enjoy a lively traditional market that sells all kinds of products imaginable. You can buy clothes, household items and delectable food at the various food stalls.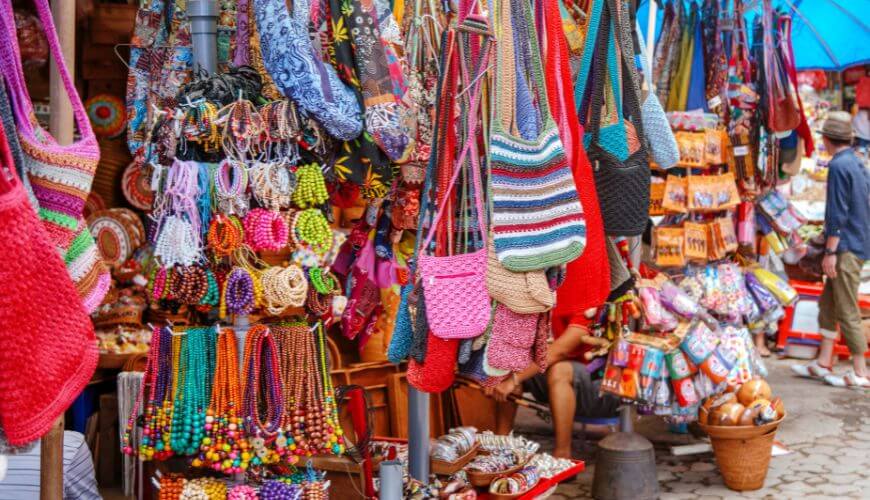 3. Art Markets
If you are an art enthusiast, you already know what is famous in Bali for shopping! Enjoy exploring and buying traditional Balinese art items through many art markets per your requirements.
Head to the famous Ubud art market, located right in the centre of Ubud, to shop for clothing, accessories, Balinese souvenirs and handicrafts. You will find many beautiful trinkets that are perfect for taking home for yourself, family, and friends.
Visit the Sukawati art market in the Gianyar area to shop for art and classy souvenirs. If you are searching for great bargains, the Sukawati art market is an ideal destination for inexpensive items.
If you intend to visit the Denspar region through our Bali tour packages, we can plan a stop at the Kumbasari art market since it is one of the city's leading sources of arts and handicrafts. You will find items here that mostly come from all over Bali's artistic communities. The advantage of shopping at Kumbasari art market is its diverse selection of items that easily appeal to you, mainly due to its bargain and wholesale prices.
4. Chocolates and Coffee
You may be aware of Indonesian coffee- Kopi Luwak, but Bali takes it a notch higher by making chocolates with the Luwak flavour. You must buy chocolates and coffee in Bali if you have a sweet tooth. What's better than enjoying a combination of two of the best flavours?
5. Fragrances
With Bali known for its local products, you cannot miss the perfumes and body oils, a speciality here. Choose one of the Bali honeymoon packages with GT Holidays and shop for some unique floral and fruity fragrances for you as a couple. You can also shop for tropical beauty products that cater to skincare or hair care at a reasonable price here.
6. Jams
Once you taste the local jams of Bali, you will want to take some with you on your return home. If you visit Bali, do not miss the chance to enjoy the excellent quality of the delicious jams made from tropical fruits and local products. Don't forget to buy some handmade preserves with natural and pure tropical fruit flavours in jams, marmalades and honey sourced from trusted farmers across Indonesia.
7. Furniture
You may have already heard about Bali furniture's intricate, unique and vintage quality and craftsmanship. When in Bali, head out to personally choose from chiseled chairs, wall frames and antique furniture that defines class and elegance.
Bali being such a popular destination, you will find something to your liking that reminds you of your visit to the island. Why wait? Just reach out to GT Holidays and book your Bali package and choose personally from what is famous in Bali for shopping. Follow our Instagram profile to know about the latest offers and discounts.